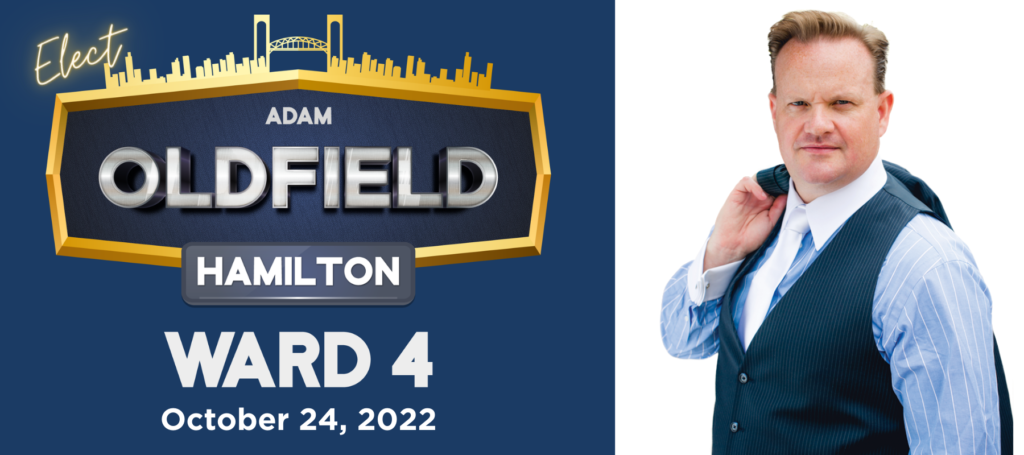 I am Adam Oldfield and I am running for Ward 4 Hamilton in the upcoming election on October 24, 2022. I am incredibly excited about the opportunity to be the Ward 4 voice at City Hall and I promise to be dependable, accountable, and transparent for the people of my ward. I will always put the needs of my constituents first and I will work tirelessly to make sure their voices are heard. I would be honoured to have your support on October 24th and I promise to always act in the best interests of Ward 4. Thank you for your consideration!
WARD 4 HAMILTON PLATFORM
MY PLATFORM Is available here. I'm looking to tackle the issues in Ward 4 Hamilton but across the city with my fellow City Councillors if elected on October 24, 2022. My 3 main focus points include; 3 lane Red Hill Creek Expressway, City Housing – fixing to get people into homes, Commercial Vacancy Tax for empty operations in the city. Need to know where to vote in Ward 4? Click here!
WHY OLDFIELD FOR CITY COUNCILLOR?
I have been running businesses for over 25 years within the city of Hamilton in the East End. I take pride in not only my reputation, but also the quality of my work. I believe that accountability is important in all aspects of life, and I strive to be a person that others can trust. I have lived in the east and owned a business in the area of Ward 4 for most of my life, and I am invested in making it a better place for everyone. I believe that by working together, we can make a difference. I am committed to being an active member of the community, and I welcome the opportunity to work with others to make Ward 4 a great place to live.
I believe that dependability is an essential quality for any elected officials. As your Ward 4 Hamilton Councillor, you can count on me to be there for you. I will be available to answer your questions and listen to your concerns. I will always give you a straight answer, even if it's not the answer you want to hear. I know that I can't please everyone all the time, but I promise to always do what I believe is in the best interest of Ward 4. I ask for your trust, and I promise to work hard to earn it. I hope that I can count on your support as I continue to fight for Ward 4 Hamilton.
TRANSPARENT
I believe in transparency because I think it is important for people to know what is happening with their tax money. I want to be a voice for the people of Hamilton and I want to explain what is happening in Ward 4 Hamilton. I think that the City of Hamilton has been closed off and there has been mis-information given out when asked questions of council. I think that it is important for people of Ward 4 to know what is happening so that they can trust the city and the government. I believe that transparency will help build trust between the people and the government.
Adam's full Ward 4 Hamilton – CAMPAIGN Platform can be found here